If the constraints of your home are beginning to make themselves known, these virtual tours can make all the difference. With a simple click, you'll be transported to buildings in the deserts of Arizona, on the Sydney waterfront, or along Barcelona's historic streets—often with exclusive behind-the-scenes access that few are lucky enough to be granted. Here's where to begin your online adventure.
Taliesin West, Arizona, U.S.A.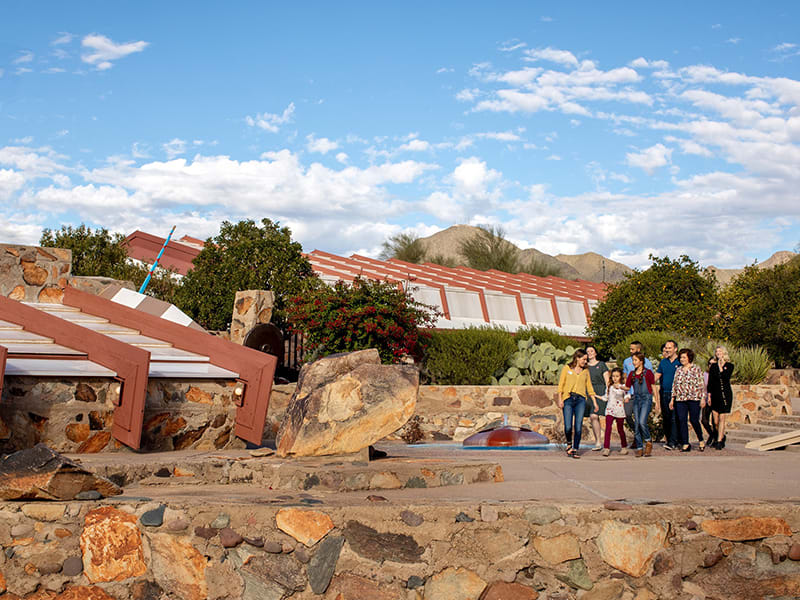 Today, Taliesin West is the main campus of the School of Architecture at Taliesin
and houses the Frank Lloyd Wright Foundation. Image: Jill Richards
Last year, eight of Frank Lloyd Wright's unmistakable buildings were officially inscribed to the UNESCO World Heritage List. The first modern architecture designation on the List in the United States, Lloyd Wright's Taliesen West in
Arizona
, is justly among those eight.
Taliesin West
was Lloyd Wright's desert home and school from 1937 until his death in 1959, aged 91. The virtual tour takes visitors around the property—you decide which parts to visit, from the entrance and entry courtyard, through living spaces, out to the garden and reflection pool. You can also visit the maestro's office and rock-hewn lecture theater. Click on your chosen thumbnail and then click within it to experience the sensation of floating through each space, or press the play button to be guided through each room.
The Sydney Opera House, Sydney, Australia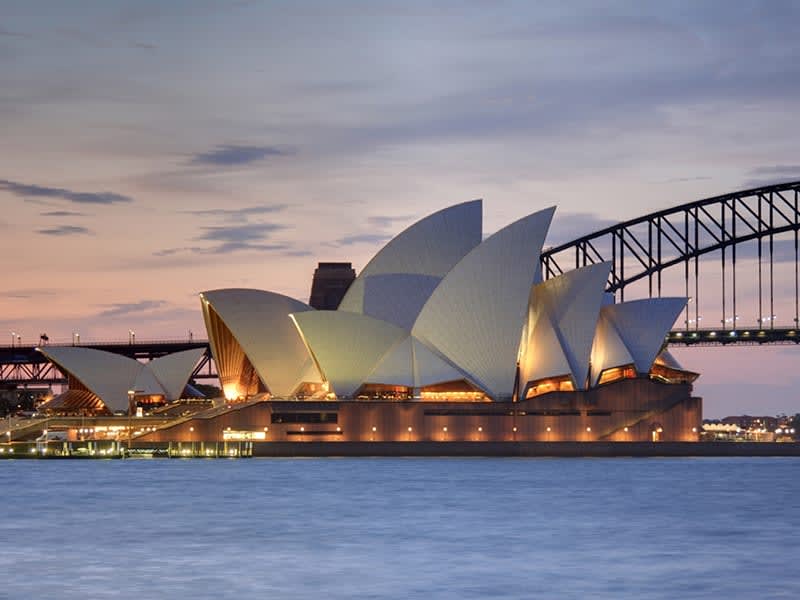 Jøm Utzon, the original architect of the Sydney Opera House, never visited the icon he designed.
Thankfully though, its current closure doesn't mean you can't explore it digitally. Image: Adam J.W.C.
In partnership with the Google Cultural Institute, the
Sydney
Opera House has produced The Unseen House, an eight-minute video that takes virtual visitors through a 360-degree whistle-stop tour of all parts of the building, in rehearsal and at rest. The tour starts with the iconic exterior—said to be based on the sails of a ship—before inviting us in to see a cellist Benjamin Schwartz rehearsing. It then tours both public and private spaces, stages, and dressing rooms, accompanied by the soaring tones of soprano Nicole Car.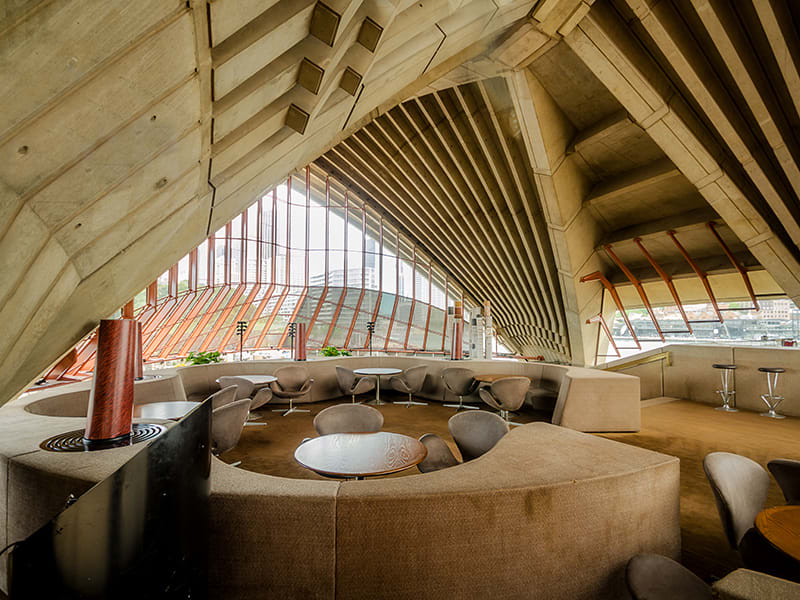 The Opera House's virtual tour allows you to see every facet of the building—inside and out. Image: Alamy
The Opera House's other online exhibits include Late Night House, an exploration of how
the city's
club culture has shaped the venue, and A Backstage Pass, a more in-depth look at rehearsal spaces and dressing rooms. It has also launched a new digital initiative, From our House to Yours, an evolving weekly program of full-length performances and talks, never-before-seen footage, podcasts, long-form articles, and behind-the-scenes content.
Casa Battló, Barcelona, Spain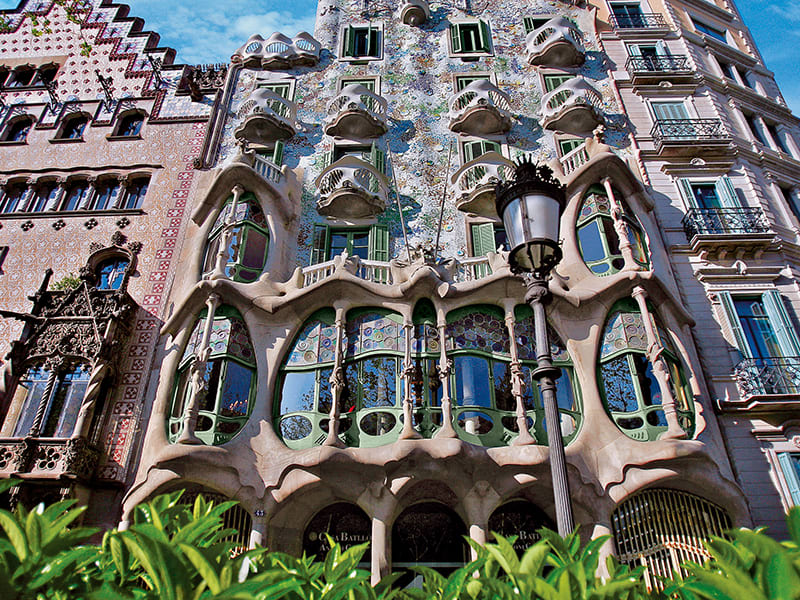 Many visitors to Casa Battló are intrigued by the building's skull-like balconies. However, look a
little closer and you'll pick up on the many marine references Gaudí included in its design. Image: Casa Batlló S.L.U.-Gaudí
Spain
's Catalan capital might be shut to outsiders for the time being, but you can still explore Casa Battló, one of the buildings by the city's most famous architect Antoni Gaudí. Known by locals as Casa dels ossos—house of bones—thanks to the skeleton-like balconies that jut from its façade, it is said that Gaudí actually looked to the colors and shapes of marine life as inspiration when he was commissioned to redesign the building in 1904.
Visitors can take a full virtual tour of
Casa Battló
, from street level to the rooftop terrace. Passing through the building you're treated to glimpses of the colorful tilework and glass so beloved of the Catalan architect, and the undulating, organic designs that helped to make his name.
Diego Rivera and Frida Kahlo's house, Mexico City, Mexico
Located in one of the oldest and most beautiful neighborhoods of Mexico City, Frida Kahlo's Casa Azul (the Blue House)
was converted into a museum in 1958, four years after her death. Image: Alamy
Through a series of navigable images, you can explore the two interconnected houses that make up the Museu Casa Estudio Diego Rivera y Frida Kahlo in San Angel,
Mexico
City. The work of painter and architect Juan O'Gorman, the buildings sit on land that was once the tennis courts of the San Angel Inn, which was so popular in its day that the neighborhood used to be known by the same name.
One of the first functionalist buildings in Latin America, today the colorful
museum
offers an insight into the working lives of Mexico's most famous artists, each of whom had a separate building. In Diego's house, painted white and red, are works from his Riveriano-ruso era, which explored his passion for communism. Here, you'll also find his papier mâché cartonería figures of humans and animals. A highlight of Frida's blue house is the original bathroom complete with the tub that appears in her painting Lo Que El Agua Mi Dió (What the Water Gave Me).
Find a New Home Virtually
Virtual visits aren't just for landmark buildings. You can enjoy 360-degree house tours of some of the finest listings from Christie's International Real Estate and its global network of affiliates without having to leave your own home.
Sustainable Splendor in Grand Cayman, Cayman Islands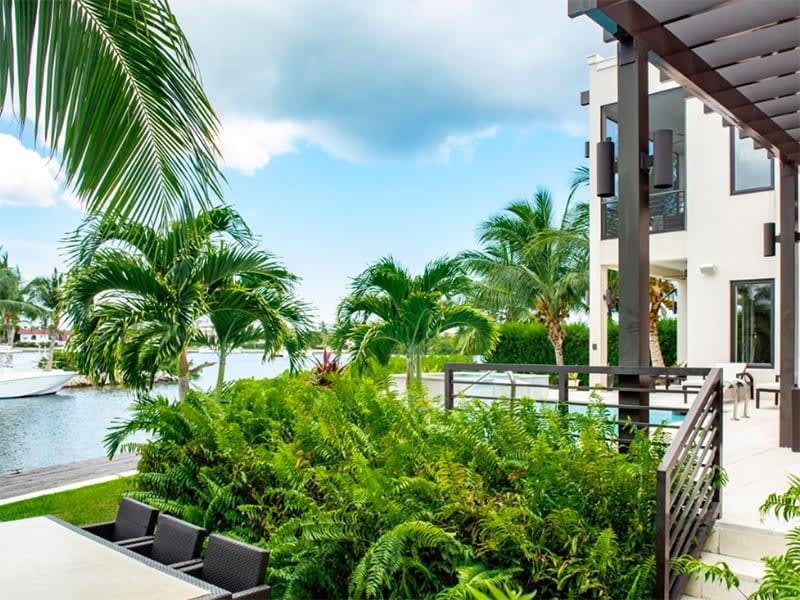 Situated in an exclusive gated residential community, this modern, luxury villa is located right on the water's edge and is surrounded by lush landscaping.
This beautifully furnished four bedroom, three-and-a-half bath home features a pool and private dock, with thoughtfully-designed outdoor spaces that seamlessly integrate the indoors and outdoors. On the market with
Provenance Properties Cayman Islands
, the home has been designed for sustainable living. Electricity is generated through solar panels and the villa is cooled using geothermal technology. (Click on the "3D Virtual Tour" tab within each property to start your tour.)
Idyllic Ocean Views in Parrot Cay, Turks & Caicos Islands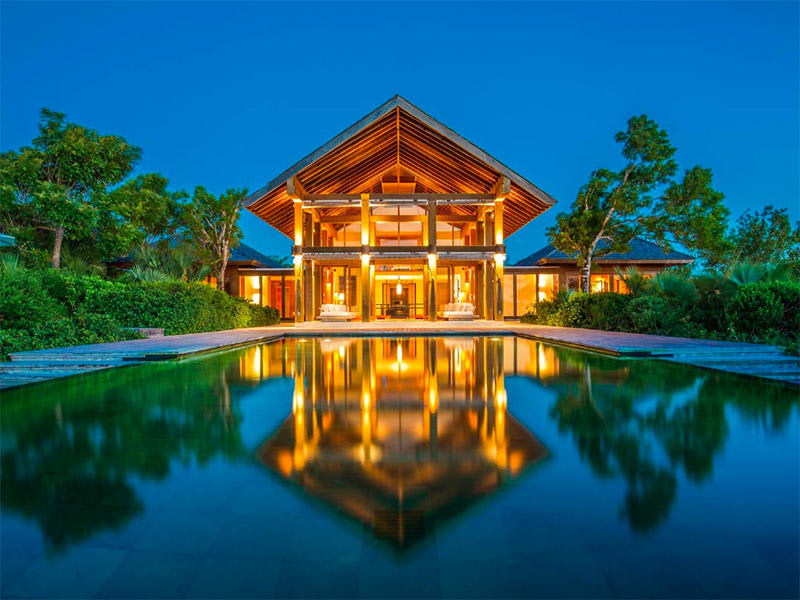 Designed by world-renowned architect Cheong Yew Kuan, this spectacular beachfront private estate spans over 7,000 square feet (650 sq m) with unobstructed ocean views.
Located on an exclusive, privately-owned island in the Turks & Caicos, this villa is made for seamless indoor–outdoor living thanks to vast glass windows, a covered terrace, and a pool finished with a unique lava stone from Bali. On the market with
Regency
, it boasts five bedrooms with five-and-a-half baths, and a chef's kitchen.
Loft-Like Luxury in the West Village, New York City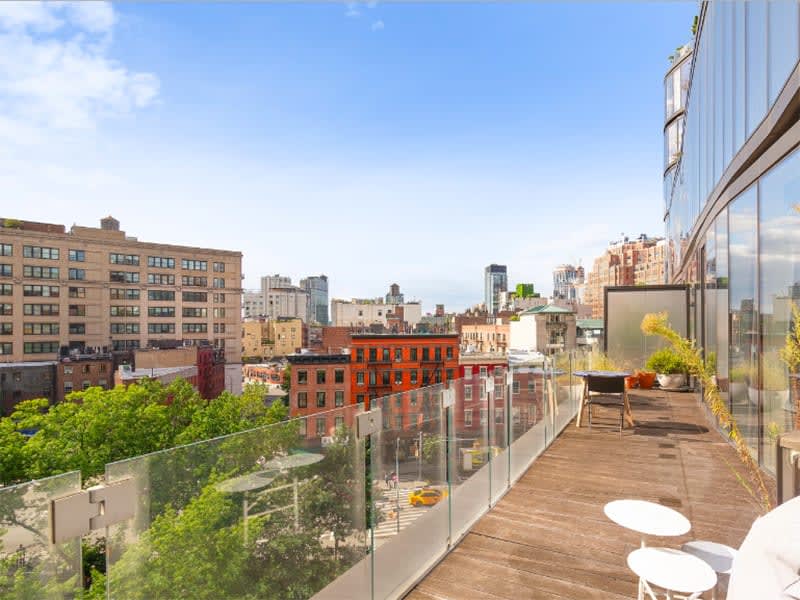 This breathtaking apartment offers access to a private terrace that spans 447 square feet (42 sq m) and overlooks Jackson Square Park.
One Jackson Square, on the market with Christie's International Real Estate Group, is one of the most beautiful apartments in New York's West Village. This two-bedroom, three-bath corner duplex is designed for entertaining with an open loft-style layout. The main level features a professional-standard kitchen and double-sided living room fireplace, while on the upper level you'll find the master bedroom and spa-like master bath, along with a spacious second bedroom.
Georgian Glamor in Belgravia, London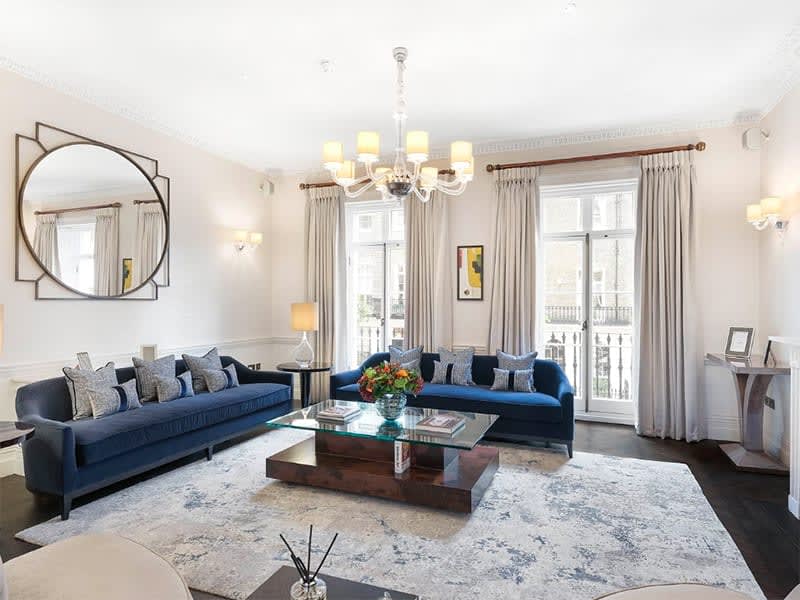 Perfectly suited for both entertaining and modern family living, this period house includes a
bespoke open-plan kitchen and dining room, a cosy TV area and a fantastic formal drawing room.
This freehold period house, on the market with Strutt & Parker, seamlessly combines original Georgian elements with contemporary features. It offers six bedrooms and five full baths, with a large master bedroom suite that occupies the entire second floor. On the lower-ground floor, you'll find a cinema room, wine cellar and a bar with bi-folding glass doors that open onto a patio garden.